<Events> Symposium Commemorating the DEI Promotion Declaration(2022/6/20)
2022.06.14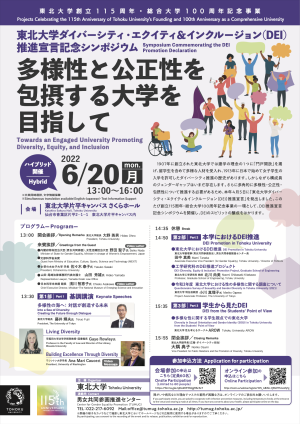 Tohoku University has a long history of promoting diversity, with "open-door" policy as one of its founding principles, and was the first university in Japan to admit female students. The Tohoku University Diversity, Equity and Inclusion (DEI) Promotion Declaration was released, to further efforts to promote equality and diversity.
This symposium – which is part of Tohoku University's 115th anniversary celebrations – will include keynote speeches by renowned experts in the field, as well as panel discussions to address ways to achieve the goals set in the declaration.
– Outline –
Date: 2022/6/20 mon. 13:00-16:00
Venue: Katahira Sakura Hall, Tohoku University
・Hybrid Event(Onsite・Online)
・Simultaneous translation available(English-Japanese)
・Text Information Support
For program details and registration, please see the Center for Gender Equality Promotion (TUMUG)page.