【Event】A "Place" for Children and Adults as Considered in smt
2022.03.16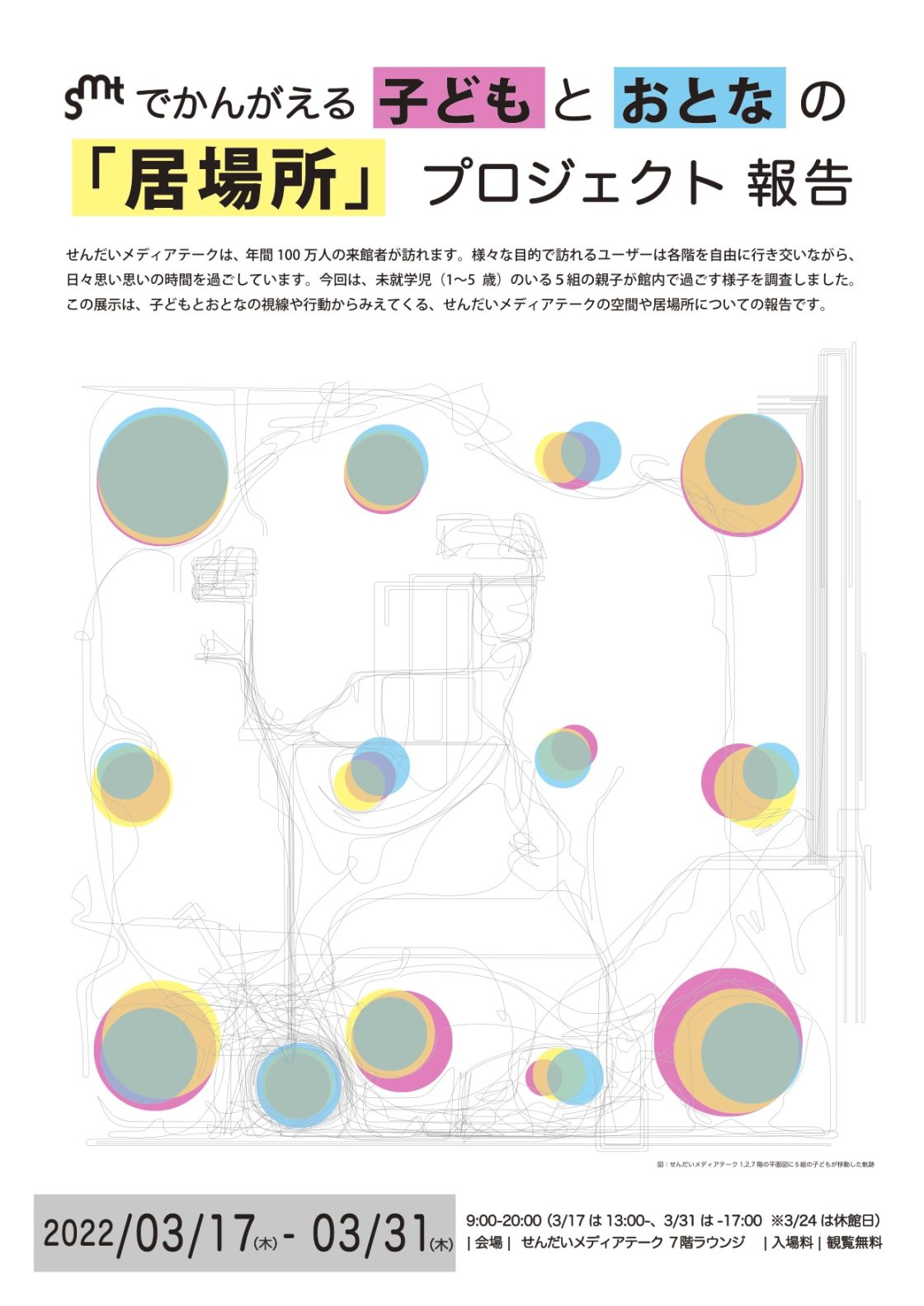 Momoka Hirai sensei of the Department of Urban and Architectural Planning is pleased to announce the event.
We look forward to your participation.

Please refer to the information below and the attached flyer for event details.
Thank you in advance for your cooperation.

—————————————
A "Place" for Children and Adults as Considered in smt
The Sendai Mediatheque receives one million visitors a year. Users who visit for various purposes spend their time freely going from one floor to another, spending their time as they please. For this study, we surveyed five groups of parents and children with preschoolers (1-5 years old) as they spent their time in the museum. This exhibition is a report on the space and place of the Sendai Mediatheque as seen through the eyes and actions of children and adults.
|Date| March 17 (Thu) – 31 (Thu), 2022 9:00-20:00
(from 13:00 on the first day, until 17:00 on the last day *Closed on March 24)
|Venue| Lounge on the 7th floor of Sendai Mediatheque
|Admission| Free
|Sponsored by Sendai Mediatheque 
| "Where to be" for children and adults
Research and Analysis: Momoka Hirai / Hikaru Haneda (Tohoku University), Fumi Ishigaki (Hiroshima University)
Exhibition cooperation: Hikaru Haneda / Masaya Abe / Harusho Tanaka / Kentaro Tanaka / Yume Suzuki / Tetsuro Matsui / Naoo Hamada / Natsuho Hanawa / Mizushichi Kanno / Kasumi Suzuki
Supervision: Shinya Nishikori / Yasuteru Ogawa (Ogawa Nishikori, LLC, a first-class architect office)
—————————————