Call for applications for the 6th Murasaki Sendai Hagi Award for Outstanding Female Researchers at Tohoku University (Deadline: November 4)
2022.09.21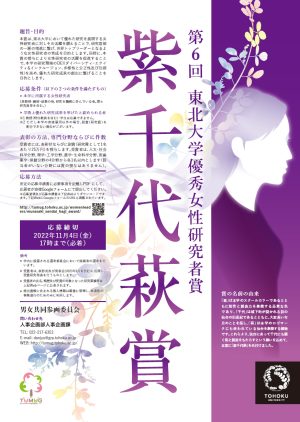 Tohoku University Center for Gender Equality and Promotion has announced the call for applications for the 6th Murasaki Sendai Hagi Award for Outstanding Women Researchers at Tohoku University.
The purpose of the Murasaki Sendai Hagi Award is to honor the achievements of female researchers who are conducting outstanding research at Tohoku University, and to foster female researchers who will become world-class leaders. The award also seeks to promote the activities of female researchers, enhance the Diversity, Equity, and Inclusion (DEI) of Tohoku University's research environment, and lead to the creation of outstanding research results.
Please check here for application requirements and other details.